براعم العربية 1
Special discount for a limited time
Suitable for 4-6 year olds
Teaches the basic skills of Arabic language
About Book
The series is designed to teach children the basic skills of the Arabic language: listening, speaking, reading and writing. It is concerned with teaching the Arabic language through various activities, purposeful language games, useful stories, and songs. Based on the child's environment and surroundings, it is an easy-to-learn series.
تأتي سلسلة براعم العربية لتعليم الأطفال المهارات الأساسية في اللغة العربية وهي: الاستماع، والمحادثة، والقراءة، والكتابة.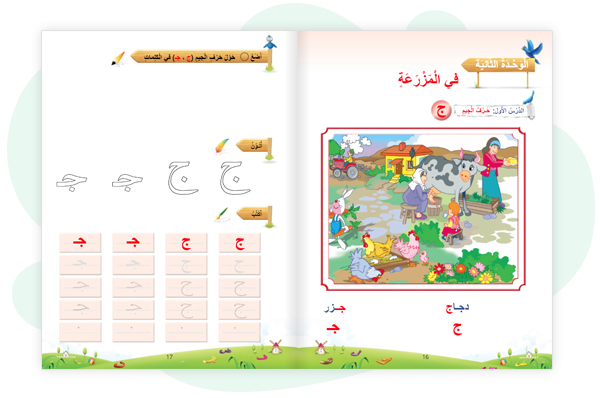 Student Book
It primarily focuses on teaching reading, but is also concerned with the other skills of the language. It is considered the main book in Baraem Al Arabia series.
The material covered by the book comes in eight units including topics related to children's life, and based on their surrounding environment. It presents the following titles: at the play park, on the farm, my computer, with the neighbors, Eid holiday, traffic lights, at sea, my favorite sport.
Each unit starts with a scene picture of a children story to elicit and teach vocabulary. The scene pictures cover all the vocabulary presented in the four lessons composing the unit.
All of the eight units teach the Arabic letters and the vowels, in addition to the vowel marks (the fatha, the damma, the kasra, the sukoon, and the shadda). The three vowels were introduced first so that the child could join letters to form syllables and words through various gradual activities and exercises that suit the child's growth.
Teacher Book
The Teacher's Book offers a detailed explanation of the material with how-to-teach instructions, as well as detailed methods for teaching reading for beginners. It includes the Alphabet stories charecterized by simple vocabulary and structures from the child's environment. It also includes educational games proposed to implement the activities of the book, which develop child's observation, concentration, and composition skills.